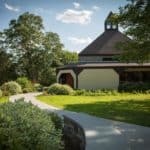 Updated Westminster Bridge Team Guidelines for Westminster Large & Small Group Gatherings – October 2021
Hello eager Westminster worshippers – the Bridge Team has met again and revised their guidelines for safe worship and small group meetings. We're happy to announce that, while outdoor worship will remain the default, indoor worship will be possible once again! Read on for more details.
Services
Services will continue to be hybrid for the foreseeable future, and we will preferentially meet outdoors as the weather allows. BUT, if it is rainy/snowing or below 55 degrees Fahrenheit…we'll move inside! This decision will be made a day or two in advance to give the team a chance to reconfigure services, and we'll of course let you know on the website and via email where the service will be so you can make decisions for your own household.
For now, indoor worship will mean no singing, but the Bridge Committee is going to look into that question more at their next meeting. They continue with their recommendation that people be fully vaccinated before coming to a service.
Singing
Singing is now permitted outdoors! The committee recommends using medical-grade masks such as N-95 or KN-95, or double masking, but this is not required. The same applies to our beloved choir – they'll be able to treat us to their lovely voices while of course observing proper masking & distancing.
Small groups
Eating in small groups is now allowable if everyone in the group agrees. All other previous small group guidelines apply – with proper covenanting you may meet indoors, outdoors, masked or unmasked, as long as the entire group is comfortable with that decision. Please be respectful of everyone's comfort levels!
Future Recommendations
All of that said, the Bridge Team is still concerned about RI's infection rates and hospitalizations in RI as the weather cools and people spend more time indoors. At the moment the numbers are trending positive, but we're not out of the woods yet as long as our 5-12 year-olds aren't vaccinated and the Delta variant remains a threat. We will continue to watch national, local, and UUA guidance, as well as consult with our fellow UUA's in the region, to determine the safest course.
Whether you join us in person or online, we look forward to your continued presence in services as we strive to continue living our values in all the ways we can.
Thank you,
The Westminster Bridge Team
Before scheduling any meetings, please check with Marisa at malbini@westminsteruu.org for room availability.