Location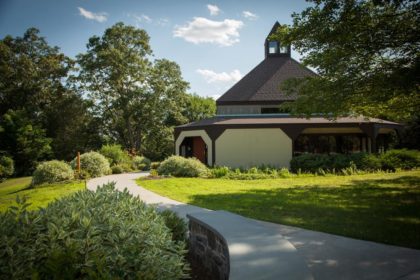 Located in historic downtown East Greenwich, our Parish House and Sanctuary overlook the intersection of Route 401 and Kenyon Avenue. Learn about the accessibility of our building and programs.
Office Hours
Due to the safety and concern about the spread of the Corona Virus the congregation's office hours are suspended until further notice. The Staff is working remotely and can be reach via email.
Office Hours for the Minister are:
Please schedule times to meet by emailing:
minister@westminsteruu.org
Office Hours for the Office Administrator 
Monday – Friday 10:00 am – 2:00 pm
Available via e-mail Monday through Friday: Contact our office.
Office Hours for the Director of Religious Education:
Monday 9:30 am -1:00 pm
Tuesday 9:30 am -12:30 am
Thursday 9:30 am -1:00 pm
Office Hours for the RE Coordinator are:
Tuesday thru Friday 10:00 am – 2:00 pm
Sunday 8:00 am – 11:00 am
Available via e-mail: bgibson@westminsteruu.org
Directions
Our Google Maps link offers you door-to-door directions for driving, walking, biking, or public transit.
From the North: From Rt. 95 South, take Rt 4.  Take the first exit, exit 8.  Then follow the directions below from Rt. 4.
From the South: From Rt. 4 North, take exit 8A (Rt. 401).  Then follow the directions below from Rt. 4.
From Rt 4:  At the end of the exit ramp, turn right (east) on Division Street (Rt. 401).  Follow Rt. 401 past the second traffic light. At the fork in the road, bear right onto First Avenue. At the next (third) traffic light, at Kenyon Avenue turn left on Kenyon, and turn into the church parking lot at the first driveway on your left.
Once you get here:  From the parking lot, you can see two buildings: the Parish House(nearest to parking lot) and the Sanctuary (pictured on our web home page and in the upper left corner of this web page). You may go directly to the Sanctuary for the church service or you may come into Fellowship Hall in the Parish House where folks gather before and after services. Everyone is welcome to join us.