Our Elected Leaders
Westminster's Trustees for the 2018-2019 congregational year are: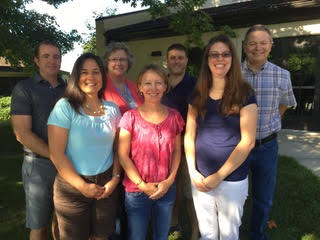 President
Judy Adourian has been a member of Westminster since 2004. She is married to Jean-Marc, a devout atheist who says if he had to belong to any church it would be Westminster. Their two sons, Jean-Phillipe and Jean-Luc, attended the Religious Education Program since kindergarten and have grown into compassionate young men as a result. Judy has served WUC in many ways, most significantly as Board Member at Large and Board Secretary, RE Committee Chairperson, RE curriculum writer and teacher, Caring Circle Chairperson, and Sharing Locker volunteer. Her greatest joy at Westminster has come through her work as a trained Our Whole Lives (OWL) co-leader. Since 2006 she has taught OWL grades K-1, 4-6, and 7-9. Judy values the opportunities Westminster provides to grow spiritually while expanding her skill sets and treasures her relationships within the congregation.
President Elect
Amy Abel went to the last lay lead service in the summer of 1996 and it was love at first sight with Westminster. She found a home for her passions for storytelling of shared experiences, spirituality, family connections, tradition, and the beautiful architecture of the sanctuary. Now, two decades later, Amy is amazed that she has written and given four full sermons during the church year and an additional five summer sermons. Amy has also served in various volunteer roles in the church, six years on the Board of Trustees, in the position of Program Coordinator, three terms on the nominating committee. Amy has also served on the RE committee for ten years and taught for sixteen years in the religious education program. Leadership experiences also include serving on a search committee for a interim minister and serving as worship partner. Amy lives in North Kingstown with her young adult kid, Lee Giruzzi. Ten years ago, Amy considered relocation to another part of the country. The decision to stay was the connection to this warm, loving, embracing community that truly makes Rhode Island home for Amy.
Past President
Tracey Wysor, and her husband Brian, have been members at Westminster since 2005. They and their children consider themselves extremely fortunate to have found the Westminster community. Tracey has a background in science and education, and is the Coordinator of the Science Center at Roger Williams University, as well as an adjunct faculty member. She currently serves as Past-President of the Board at Westminster, but prior to that she served as President, Vice-president, and Member at Large, as well as a member of the Committee on Ministry, an RE instructor, and co-chair of the Worship Committee. Tracey has never loved an organization as much as she loves Westminster, and is grateful to have the opportunity to serve such a dedicated and passionate group of people.
Treasurer
Jeff Haan and his family, Laura Giusti and daughters Eva and Aria have been coming to Westminster since 2012. Jeff and Laura have volunteered as religious ed teachers for a number of years and are both interested in finding new ways to serve the church. Jeff works as a software development manager in Johnston.
Board Secretary
Linda Hevenor and her husband, Sean, have 2 children and have been part of the Westminster congregation since 2012. They feel Westminster is an integral part of their lives – a place where they receive support, inspiration, and love. Linda is a nurse, currently working in patient safety and quality improvement. This year, Linda began her role as Secretary of the Board at Westminster, continues as a Youth Religious Education Committee member, and will mentor a youth in the Coming of Age program. She has taught Religious Education classes, including OWL this past year. Linda is proud to be a member of Westminster because the people in this community inspire her to live the values she believes in.
Program Council
Brian Quigg, along with his wife Sarah and two daughters, Anna and Rachel, have been members at Westminster since they moved to Rhode Island in 2013. This is Brian's first year on the Board. Brian has been involved with the Religious Education program as a teacher in Neighboring Faiths and Compass Points, as well as a Coming-of-Age mentor. For the past four years, Brian has worked for the Providence Public School District as a special education administrator. Prior to that, he was a special education teacher in upstate New York.
Member at Large
Stephen Paull, moved to East Greenwich at the age of 10.  He is a graduate of Bishop Hendricken High School,  The University of Rhode Island and Springfield College.   Stephen presently works as an Occupational Therapist in geriatrics in both the long and short-term care settings.  Stephen and his wife Vikki have been a part of the Westminster community since 2001.   They became members in 2002 and have two children Rylie and Carson who both have been attending WUC RE programming from nursery to Coming of Age (COA).   Rylie is a junior at EGHS and Carson is a freshman at EGHS.  Stephen is serving on the board At Large for a second year.  He has volunteered as a RE teacher for grades K through to high school age.   He is a trained Our Whole lives Facilitator (OWL) and since 2003 he has served as a Senior Youth Advisor.  He has also served on the youth religious education committee for several years.