Homecoming and Water Communion – Intergenerational Service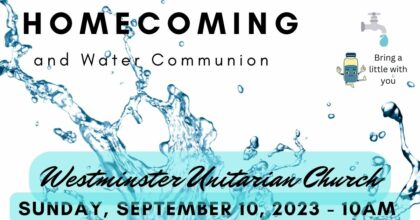 Westminster begins its new church year with a special celebration. We gather to celebrate community, remember our blessings, and seek inspiration for the days ahead. Be sure to bring a little water with you – perhaps from a place you visited over the summer, or from the kitchen faucet.
This is an intergenerational service – all are welcome.
To join the service with Zoom, click HERE.
To view the Order of Service, click HERE.
To fill out a Joys and Sorrows Form, click HERE
We are now live-streaming our Sunday worship services on our church homepage. The live stream begins at 9:30 on Sunday mornings. You can also visit our YouTube channel for an archive of previous Sunday services.