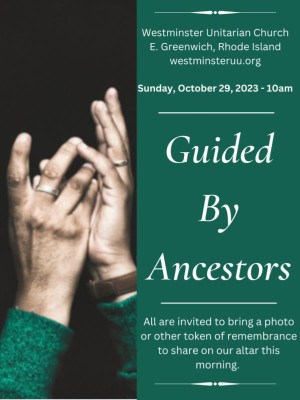 Hallowed tradition teaches that at this corner of the year the veil between the living and the departed thins. Religious celebrations like Samhain, All Souls and All Saints Day, and Halloween invite us to feel the presence of ancestors.
We'll be together intergenerationally for this morning's service. And, we invite individuals and families to bring a precious symbol of someone they hold in their heart to share on the All Souls Day altar. There will also be a 'memory tree' for memorializing the ancestors who are in our hearts and minds.
Newcomer's Welcome after service at 11:15 AM (Multiplatform) Click HERE for more information.
To join the service with Zoom, click HERE.
To view the Order of Service, click HERE.
To fill out a Joys and Sorrows Form, click HERE
We are now live-streaming our Sunday worship services on our church website. The live stream begins at 9:30 on Sunday mornings. You can also visit our YouTube channel for an archive of previous Sunday services.