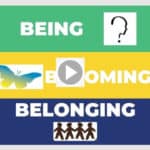 October invites introspection, and I'm sitting with three questions as the Seasons spin forward. They are common questions, both simple and profound.  But, with our COVID traumas in mind, and as we struggle to imagine post-COVID days, they feel all the more important: "Who are you? What path are you on? Who are your people?"  Especially as we approach Indigenous People's Day – and the legacy of colonialism, genocide and domination in America – these fundamental questions can serve us well.
Please Click HERE to view the video of the service.
Please Click HERE for the link to the OOS.
To read Rev. Cherry's bio please click HERE.