Summer Services in person in Smith Hall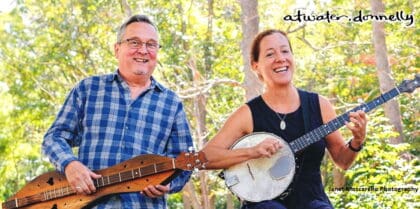 Appeal, Gratitude, Delight, Lament (Or: Help, Thanks, Wow, This Stinks)
What is prayer? Fresh berries in a tiny container? A story in a driveway? A thumb on a forehead? Shoes? Is it gratitude, recognition of a miracle, an appeal for help, a curse, an apology, longing, hope, grief, action? How do you pray? How have you been praying lately?
Join Aubrey and Elwood for a fascinating foray into the nature of prayer with readings, songs, and personal stories. Their hope, as always, is that all will leave church feeling rested, joyous, moved, and inspired.
---
No Zoom services during the summer. We will be live-streaming our Sunday worship services on our church homepage. The live stream begins at 9:30 on Sunday mornings. You can also visit our YouTube channel for an archive of previous Sunday services.
To view the Order of Service, click HERE.
To fill out a Joys and Sorrows Form, click HERE
Worship Leader Bios:
Aubrey Atwater and Elwood Donnelly, longtime and beloved folk musicians and dancers from Warren, RI, present American and Celtic music with unique vocal harmonies, guitar, mountain dulcimer, Irish whistle, harmonica, banjo, and more. Aubrey and Elwood have spent decades performing in worship spaces throughout the United States and beyond and have developed compelling "soup to nuts" services with music, readings, and reflections.

For 15 years, Aubrey and Elwood hosted a monthly community spiritual gathering, "Church in the Barn," on their 18th-century farm in Foster, RI, a community experience that they will forever treasure. And for many years, they were part of two theological, action, and contemplation groups in Providence. Married since 1989, Aubrey and Elwood have performed widely in the United States and abroad, and have produced fourteen albums and nine books. They enjoy learning, growing, and expanding their theological and spiritual sides when they create their unique services.