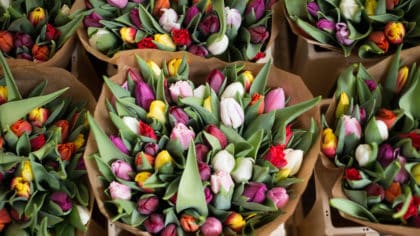 Norbert Capek, founder of Unitarian Universalism in Czechoslovakia, created the Flower Communion Service in 1923. It was designed to be a service of union and diversity, representing of beauty of each person's unique gifts, as well as the richness of our gathered community. If you would like to participate, we invite you to have a flower handy when you join us for worship (a real one, or some representation that has meaning to you).
Newcomers Welcome after the service at 11:15 AM (click here for the link)
Click here for the link to the service.
Click here for Order of Service 5-17-20.
Click here for a flower mandala coloring page.
"Bring" a Flower to Church on Sunday
You are invited to bring a sweet piece of spring into your home for our annual Flower Communion Ceremony. If what you have access to is a wildflower in the yard, it is welcomed. If you have a blooming tree branch clipping, it is welcomed. If you'd like to draw a representative flower, it is welcomed. If you have bought flowers, they are welcomed. As we navigate this new online experience, the flower in your heart is more than enough; if you'd like to have a visual representation to share during the worship service, it is welcomed.