Thanksgiving…
… is upon us again. For many, its story connotes the beginnings of European continental conquest and of a great betrayal and tragedy for native peoples. Yet still, for most, the holiday's message of reflection and gratitude endures and transcends. Falling as the year vaults into its final month, quickening towards conclusion, the day offers a welcome and appropriate pause for looking back, contemplating what is good in our lives, and sharing our gratitude for good fortune. Fitting, this year more than ever, given the ravages and up-endings wrought by the pandemic.
Good health, family and friends, a roof over our heads, productive work…surely these are on the lists of things to be thankful for… for those fortunate to have enjoyed them this year. 
But, as we examine all aspects of our lives, perhaps our gratitude extends to other gifts we have enjoyed – perhaps one of them is this faith community.  Westminster – its roots extending back nearly two centuries – has come down through the generations of its people, evolving, changing, growing, and was there at the right place and the right time for each of us to find it when we were searching — looking for something to round us, to fulfill us, make us whole. Whether that was 30 days ago or 40 years ago, whether we were seeking to explore and expand our spiritual understanding, looking for a place our children could safely grow and learn, or searching for a community where we would be accepted no matter who we loved — a place of friendship, a place to live our values, to make a difference, a place to grow.  For all these purposes and more, Westminster has been there for us.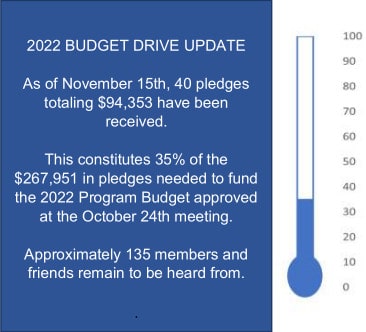 So, as we reflect on what is good in our lives this coming week, reserve some gratitude for Westminster. And one of the best ways to express your thanks, is to contribute to the substance, endurance, and growth of Westminster as it seeks to revive and renew for the future. Westminster deserves all our thanks and needs all our support now, this coming year more than ever.  

Thank you and Happy Thanksgiving to all.