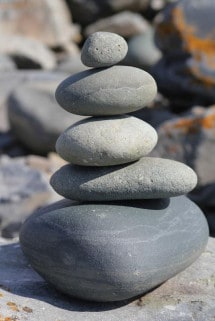 Five Smooth Stones for this Very Moment
Unitarian Universalists – and people of many faiths – have adopted the '5 smooth stones' story and metaphor from Hebrew Scripture as a useful theological device. This morning we consider that path and uncover values and truths that are needed to make our way through challenging times.
To join the service with Zoom, click HERE.
To view the Order of Service, click HERE.
To fill out a Joys and Sorrows Form, click HERE
We are now live-streaming our Sunday worship services on our church website. The live stream begins at 9:30 on Sunday mornings. You can also visit our YouTube channel for an archive of previous Sunday services.